Personal Information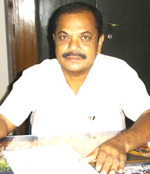 | | | |
| --- | --- | --- |
| Name | : | Prof. Ch. A. Ramulu |
| Designation | : | Professor |
| Qualification | : | M.Sc., Ph.D |
| Email | : | chiamala.ramulu@gmail.com |
| Phone No. | : | +91 9776522959 |
| Specialization | : | NA |
Teaching
Ph. D. / M.Phil. Programme : Ph.D from Kakatiya University; Post Doctral Research Fellow, University of Illinois, U.S.A: Pool Scientist(CSIR).
Post Graduation : M.sc(L.sc) 5 YEARS
Graduation : 30 years
Research
Area of Research : Plant biotech and Tissue culture
Journals:
National: 30
International: 7
Conference:
National: 20
International: 09
Projects : UGC major research project completed.
Seminars / Conferences / Symposium / Workshop : 18
Research Guidance : worked as a co-guide for 3 students.
Development
Teaching and learning material for bioscience education at secondary and Sr.secondary level.
Training
Progrmmes conducted internship in teaching for preservice and inservice courses.
1) International Conference on Biotech in Human Welfare, Department of Biotech, Kakatiya University ; Warangal (T.S) Feb 7-9, 2013.
2)International Conference on Emerging trends in Biotech (ICETB-2014) Nov 6-9, 2014, J N U,New Delhi
Extension
Experimental mutagenesis for crop improvement in certain Food Legumes 2012 (UGC) funded.
Co-ordinated several PAC programmes and documented for dissemination.
Other Information
Invited Lecture Presentation: Recent Trends in plants a National seminar Dept. of Botany; Kakatiya University; Warangal-9(T.S)
Country visited For Academic purpose: U.S.A, University of Illinois, Urbana-Champaign in plant Biotechnology 1994-96, For Post Doctral Research.
Thesis supervised: Dissertation for M.Sc .(Ed )life science supervised project work for -12- students.
Award/ Achievements: Fellow of New York Academy of Science (FNA Sc.), Fellow of Indian Botanical Society (FBS) .
Development of medical garden for science education and skill development.